Corporate Video Production
We are a professional corporate video production company that creates video content for businesses or organizations to promote products, services or brands. Corporate films may include promotional videos, training videos, internal communications or brand identity videos. We are also working closely with the client to understand their needs and goals and to ensure that the final product meets their expectations.
Our ultimate goal is to create compelling and engaging videos that effectively communicate the client's message to their intended audience.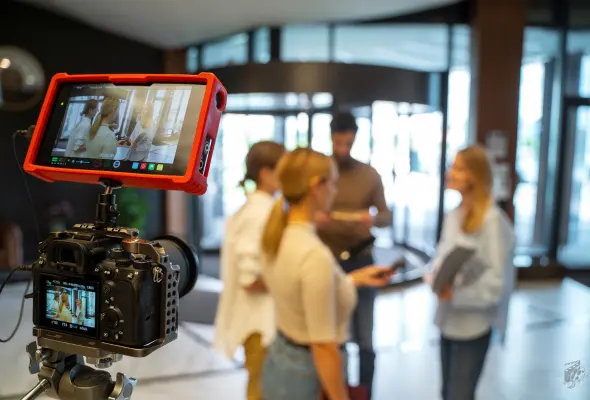 Why Corporate Film Production is Essential for Your Business
 Corporate films help to promote a brand and create awareness among potential customers. They showcase the company's products, services and achievements in a compelling manner, which can leave a lasting impression on the audience.
Corporate films can also be used to showcase a company's financial performance and strategy to investors. These films can help to build investor confidence, improve transparency and attract new investors to the company.
Corporate films can also be used to attract and recruit top talent to the company. By showcasing the company's work culture, values and achievements potential employees can get a sense of what it's like to work at the company and what opportunities they can expect.
Corporate Video can be used to communicate with the media and the public. They can showcase the company's corporate social responsibility initiatives, community involvement and other activities that reflect positively on the company's reputation.
With our Corporate Video Production, you can achieve
Communicating your Brand Message:

A well-crafted

corporate video

can help you communicate your brand message effectively to your target audience. It can showcase your products or services, highlight your company's unique value proposition and demonstrate your company's commitment to excellence.
Building Trust and Credibility:

Corporate videos can help build trust and credibility with potential customers, investors and stakeholders. By providing insight into your company's values, mission and vision you can create a sense of authenticity and establish a personal connection with your audience.
Enhancing your Online Presence:

Corporate videos can be used on your website, social media platforms and other digital channels to enhance your online presence. Videos are often more engaging than text-based content, making them a great way to capture the attention of potential customers.
Improving Employee Engagement:

Corporate videos can also be used to train and educate employees on various topics such as company policies, procedures and best practices. They can also be used to recognize and celebrate employee achievements, which can boost employee morale and engagement.