HOW CAN DIGITAL MARKETING AGENCY AFFECT THE SUCCESS OF A COMPANY?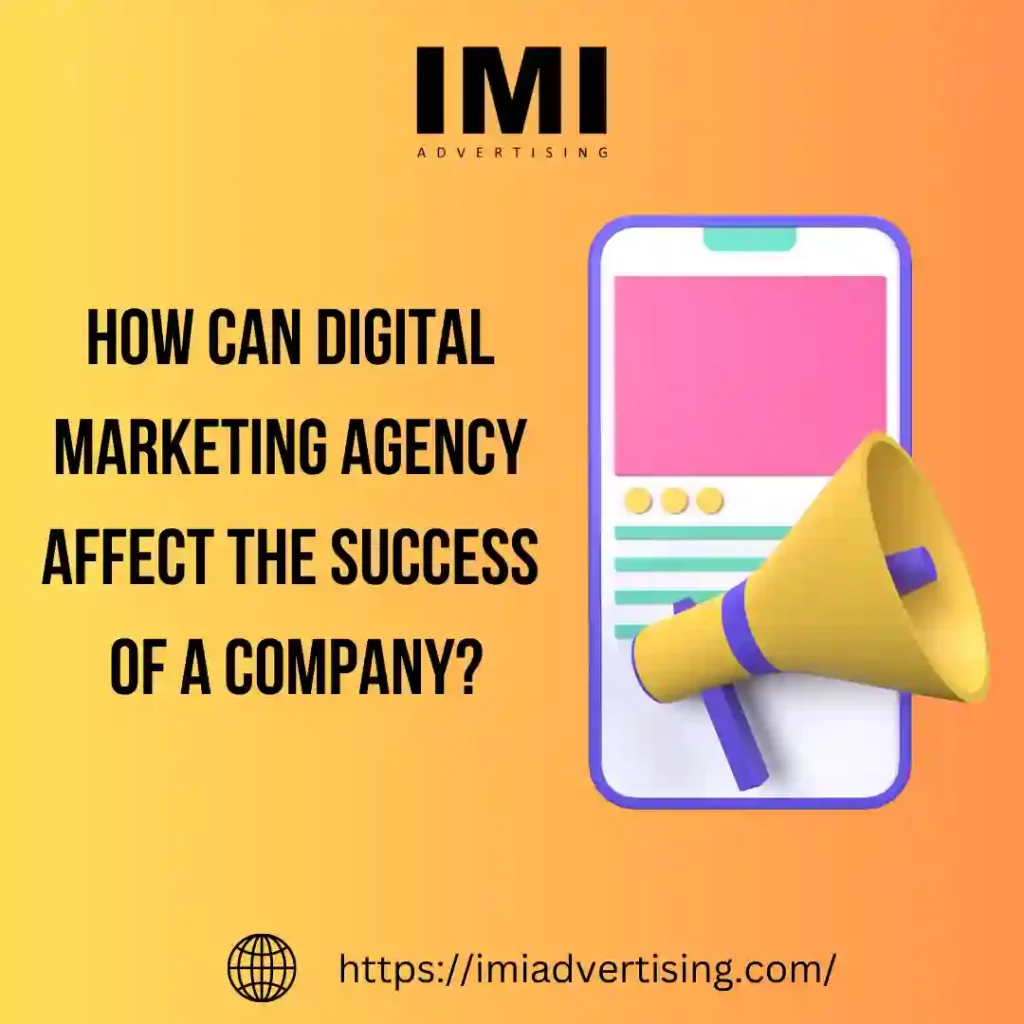 A best digital marketing agency can significantly impact the success of a company in various ways. In today's digital age, effective online marketing strategies are crucial for businesses to reach their target audience, build brand awareness and drive sales. 
Here are some ways a digital marketing agency can contribute to a company's success:
Online Visibility and Brand Awareness: A digital marketing agency can help improve a company's online presence by creating and implementing strategies such as search engine optimization (SEO), social media marketing, content marketing and paid advertising. These efforts increase the visibility of the brand, making it easier for potential customers to find the company when searching for related products or services.
 Targeted Audience Reach: Understanding and reaching the right audience is essential for any marketing campaign's success. A digital marketing agency can analyze data, consumer behavior and demographics to identify the target audience and develop tailored campaigns that resonate with potential customers. This increases the chances of attracting high-quality leads that are more likely to convert
Lead Generation and Conversion: Digital marketing agencies excel in creating effective lead generation campaigns. By using various tools and techniques, they can attract potential customers to the company's website, landing pages or social media channels. Furthermore, they can optimize these channels to convert leads into customers through engaging content and compelling calls-to-action.
Improved Customer Engagement: Engaging with customers is crucial for building brand loyalty and turning them into brand advocates. A digital marketing agency can help a company create and manage its social media profiles, email marketing campaigns and other channels to foster meaningful interactions with customers, addressing their inquiries and concerns promptly.
Data Analysis and Insights: Successful digital marketing relies on data-driven decision-making. Digital marketing agencies can analyze various metrics and data points to measure the success of campaigns, identify areas for improvement and make data-backed decisions to optimize strategies continually.
Flexibility and Agility: The digital marketing landscape is constantly evolving, with new technologies and trends emerging regularly. A digital marketing agency can adapt quickly to these changes, ensuring that the company's marketing efforts remain effective and up-to-date.
Cost-Effectiveness: Hiring a digital marketing agency can be more cost-effective than building an in-house marketing team. Agencies often have a team of specialists skilled in different aspects of digital marketing, saving the company the expense of hiring and training individual employees for each marketing role.
Focus on Core Competencies: By outsourcing marketing activities to an agency, a company can focus on its core competencies and business operations, allowing professionals with expertise in marketing to handle the promotional aspects.
In summary, a digital marketing agency can significantly contribute to a company's success by enhancing its online visibility, reaching the target audience, generating and converting leads, engaging with customers, providing data-driven insights, adapting to market changes and allowing the company to focus on its core business.