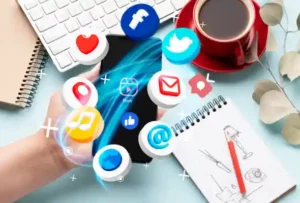 Social Media Marketing is a powerful way for businesses of all sizes to reach prospects and customers and if you're not speaking directly to your audience through social platforms like Facebook, Twitter, Instagram, and Pinterest, you're missing out!
Join the conversation and maximize your social media marketing results by following these steps:
1. Define your goals.
Before you do anything else, take the time to think about what you want to accomplish with your social media marketing. Do you want to increase brand awareness? Drive traffic to your website? Generate leads? Boost sales?
Whatever your goal may be, make sure it's specific, measurable, achievable, relevant, and time-bound (SMART). This will help you determine your social media marketing strategy and which platforms and activities will work best to support your goal.
2. Research your audience.
Once you know your goal, it's time to start learning about your target audience.
Who are they?
What are their demographics?
What are their interests?
What are their pain points?
The better you understand your audience, the better you'll be able to create content and campaigns that resonate with them. There are a number of ways you can research your audience, including social media listening, surveys, focus groups, and customer interviews.
3. Set up your profiles.
Now that you know your goals and your audience, it's time to set up your social media profiles. Make sure to include your business name, logo, website URL, and contact information on each platform. Take the time to write compelling descriptions and bio, and don't forget to use keywords that your audience is searching for.
4. Create share-worthy content.
Your social media success depends on the quality of your content. If you're churning out generic, bland content, you're not going to get the results you're looking for. But if you're creating share-worthy, valuable content, you'll be well on your way to social media stardom.
To create content that resonates with your audience, start by thinking about what they want and need. What information or entertainment can you provide that will help them in some way? Once you have an idea of the type of content you want to create, come up with a content calendar and posting schedule. This will help you stay on track and ensure that you're regularly publishing high-quality content.
5. Curate content from others.
In addition to creating your own content, you should also be curating content from other sources. This can help to add variety to your feed, and it can also introduce your audience to new perspectives and ideas.
When curating content, make sure to only share articles, videos, and other pieces that are relevant to your audience and that align with your brand. You should also add your own commentary, so your audience knows why you're sharing the content.
6. Use engaging visuals.
If you want people to pay attention to your social media posts, you need to use engaging visuals. People are far more likely to stop scrolling and take notice of a post that includes an attractive image or video.
When selecting visuals for your posts, make sure they're high-quality and relevant to the topic at hand. You should also consider using visuals that are on-brand, so your audience can easily recognize your posts.
7. Be active
If you want to get the most out of social media, you need to be active. This means regularly posting content, engaging with your audience, and joining conversations.
The more active you are, the more likely you are to achieve your social media marketing goals.
8. Monitor your activity.
In addition to being active, you also need to monitor your activity.
This means tracking your metrics and analyzing your results. By doing this, you can see what's working and what's not, and you can make adjustments to your strategy accordingly.
9. Respond to comments and messages.
If someone takes the time to leave a comment or send you a message, you should take the time to respond.
This shows that you're active and engaged, and it helps to build relationships with your audience.
Social media marketing is a powerful way for businesses of all sizes to reach new customers and grow their businesses. By following these steps, you can create a social media marketing strategy that will help you achieve your business goals.